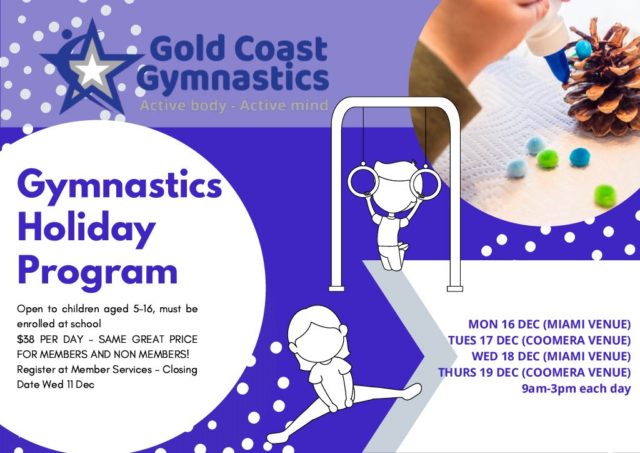 Our School Holiday Program is a fun and exciting way for the kids to spend their holidays.
Where is the SHP held?
Our Program runs out of both of our Miami and Coomera venues
What time does the Program run?
Monday to Friday 9am-3pm – parents/guardians must sign in and out each day
What's the cost?
$38 full day (9am-3pm)
What will my child do?
No two days are the same! We run a structured age and ability appropriate program that includes, Gymnastics, Tumblings, Salto Workshops, FreeG and Ninja Warrior Course, Handstand/Balance program and Acro skills hour.
What do I need to pack for my child?
Please send your child with morning and afternoon tea, a  healthy lunch and a water bottle. We please request that parents don't send children with food that may contain any nuts. GCGC has a strict no Nut policy
My child is 5 but not at school yet, can they attend the program?
Children participating must be at least 5 years of age and enrolled at Prep Level at school (sorry no pre-prep). Our program is designed to encourage children up to 14 years of age to participate
Can I book in advance?
Yes, our School Holiday Programs are open for enrolments from Week 7 of each Term. You will need prepay at the time off booking to secure your child's spot. Click here for Coomera bookings, or here for Miami.